ROVEMA CBF – flexible Feeding System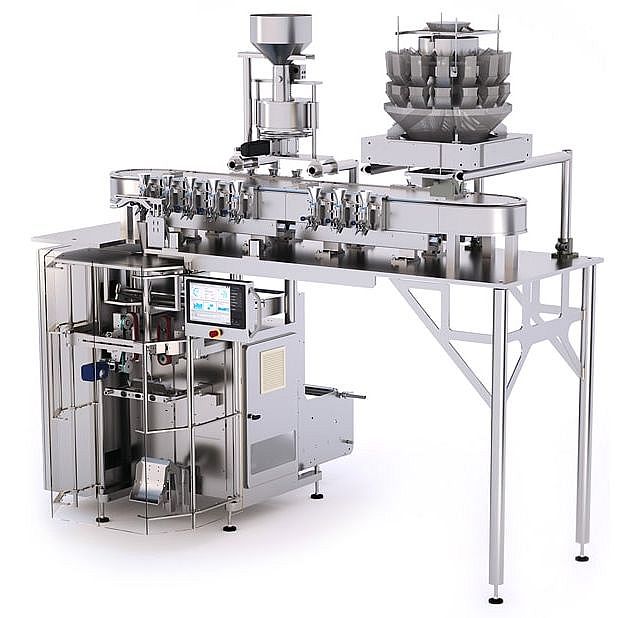 Looking for a flexible way to dose your product?
Check out our Collect, Buffer, Feeding System CBF.
There are nearly no limits to the combination of components: Almost all chunky products, either dosed with volumetric cup feeder, counting machines or scale, can be packed flexibly into a bag or a carton. Identical or mixed units are possible.
The innovative control system also allows individual mixing for batch size 1. Particularly important for the food industry, e.g. for cereals and tea, but also for the pet- and non-food industry, e.g. for weekly food plans or flower sets. The possibilities are virtually endless.
ROVEMA ACM – Maximum product protection during the dosing process
Maximum product protection during the dosing process
Auger feeders (SDH, SDH-W) are used for the packaging of powders. ROVEMA ACM determines the vibrations at the stainless steel hopper by means of a sound sensor. Thus reference values for individual recipes and packaging tasks can be defined and constantly compared with the actual values during production.
If a deviation from the reference value is detected, e.g. due to metallic friction, warning messages and/or a machine stop are issued.
With this method, contamination by the smallest particles - not detectable in the metal detector - can be detected in time.
AWC Automated Wet Cleaning – Proven hygiene
ROVEMA's new Automated Wet Cleaning AWC for auger dosers cleaning without chemicals – reduces down times for cleaning and drying by up to 90%.
The ROVEMA SDH auger doser allows precise and dust-free dosing of various free-flowing products. Since frequent product changes are common during production, many cleaning intervals throughout the day are necessary to avoid product contamination. In the past only the use of chemicals allowed truly hygienic cleaning results. To reduce cleaning times and to ensure reliable hygienic cleaning without the use of chemicals, ROVEMA together with the University of Applied Sciences in Hanover developed the Automated Wet Cleaning AWC for auger dosers. Its effectiveness has been validated for brown sugar and milk powder, amongst others.
A secure and user-friendly cleaning system that works without dismantling, chemical cleaners and manual labour. Human health, the environment and resources are treated with care, cleaning times and down times are reduced, and the production process simplified.
Vacuum-Powder Filler – Spotless flour packages on the shelf
A clean presentation of flour at the point of sale – ROVEMA achieves this with a closed system of dosing and a Form Fill and Seal machine.
The future-orientated method of low-dust and compacted dosing through the Vacuum-Powder Filler (SDH) has been awarded the German Packaging Award 2017 as well as the Gold Award. .
This technical solution is proven with a substantial increase in dosing accuracy of up to 50%. In addition, the compression of product allows a reduction of bag size – this saves packaging materials and improves transport volumes.
The NEW ROVEMA HMI – Red Dot Design award-winning communication design
Experience the new ROVEMA HMI for an improved human-machine communication – task-specific, intuitive and process-oriented.
The touch-optimized user interface will be applicable for all ROVEMA machines and systems in the future. The user-centered and intuitive operating concept provides a uniform, Red Dot Design Award and iF Design Award winning, structure for all different machine types – from dosing to final packaging and turnkey systems. The consistent, process-oriented construction with step-by-step instructions allows an easy and understandable operation. Important process values are displayed in an immediate and compact way, also the creation of a favorites list is possible – an optimal support for operators!