Vacuum Closing System for Auger Dosers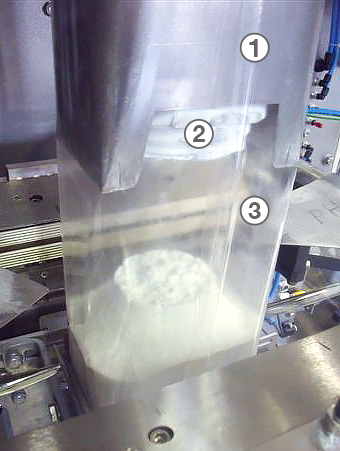 With the ROVEMA vacuum closure system for auger dosers, powdery products can be dosed compactly and dust-free.
The field-proven retrofit kit for existing machines allows an upgrade of existing ROVEMA auger dosers, e.g. for a more compact dosing of flour.
The vacuum closing system offers you:
closing system without movable parts
better quality of seal due to a dustless dosing without trickling out effect
compact product filling
up to 20% film savings potential (product-specific) because of shorter bags
possible increase of output (depending on product type)
Higher dosing accuracy
The retrofit kit consists of:
vacuum unit as one-time retrofit kit, including electrical, mechanical and pneumatic equipment
set of auger forming parts with vacuum closure as complete format change set
On request we will gladly prepare a customized offer for installation and start-up on site.
Stabilo Seal in reel carrier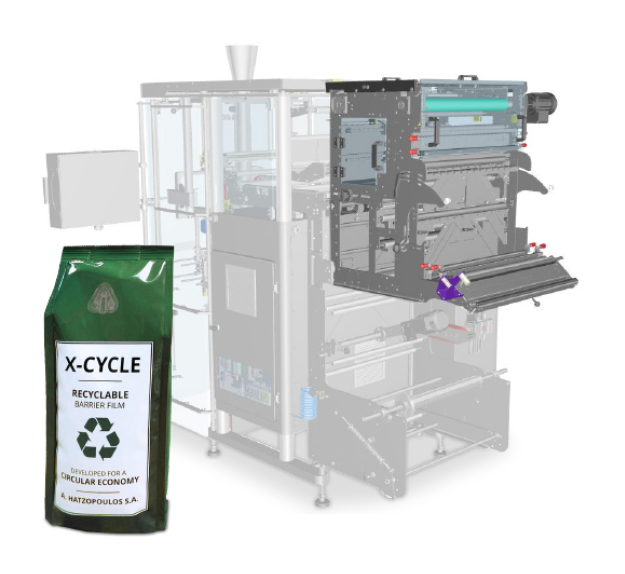 POS-strong 4-edge sealed pouches flexibly retrofitted
We offer for all continuous ROVEMA Form, Fill and Seal machines with P@ck-Control an upgrade of the existing reel carrier for the production of 4-edge sealed Stabilo Seal bags. The high-quality stand-up pouch with four clearly separated presentation areas is already established in the market.

This upgrade is possible for all common bag sizes. We would be pleased to check for you the possibility of continuing to use your existing format set and coding system.

Tip for all manufacturers who pack in block bottom bags: If you continue to pack with the same packaging material, the machine height - and thus the drop height for your product - will remain the same after the Stabilo Seal upgrade.

Would you like to keep the bag dimensions of your block bottom bag? We will check to what extent the round format set can also be reused and the upgrade carried out quickly and efficiently.

An upgrade kit contains:
support module Stabilo Seal incl. forming and sealing tools
servo driven draw-down of the packaging material
electrical parts with connections and accessories
forming parts
software and wiring diagram adaptation
This upgrade can be realized on all continuous ROVEMA Form, Fill and Seal machines with P@ck-Control. We will gladly prepare an individual offer for you.
Successful sustainable upgrade:
Major UK coffee roaster now able to produce with alternative all PE recyclable solution

We are very proud to report that our extensive testings around new alternative packaging materials are not only successful from a technical point of view – they look good, too! We do hope they win over the customers in the UK soon – ROVEMA high-speed packaging is ready to operate with this new material.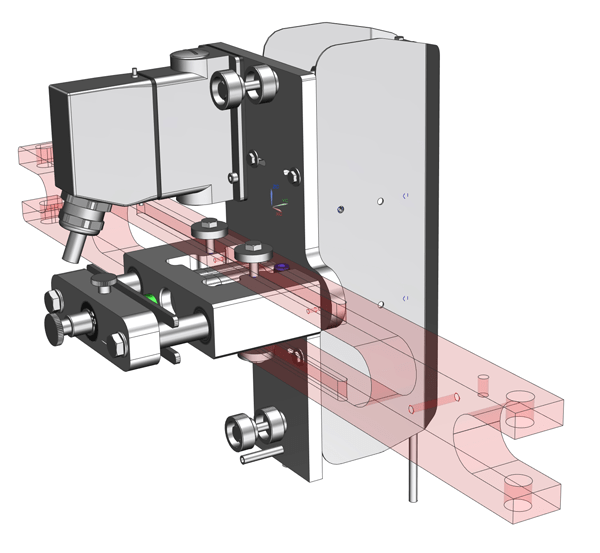 Looking for a flexible and low-wear vertical sealing system for Form, Fill and Seal machines?
For packaging formats with a centred folded or overlapping vertical seal, we now offer drag seal bars as an optimised vertical sealing tool. Drag seal bars can be used for all continuous motion ROVEMA Form, Fill and Seal machines.

Less wear and tear: Drag seal bars replace the existing brass sealing insert with a sealing band, therefore the usual exchange of sealing bands is not necessary anymore. You can increase your machine availability with the low-wear and low-maintenance drag seal bars.

Flexibility for all formats: After changing to this longitudinal sealing system, existing format sets can still be used. .

ROVEMA recommends a conversion to drag seal bars particularly for the processing of paper packaging materials.
Now you are able to combine flexible cross sealing jaws with exchangeable inserts.

An upgrade kit contains:
vertical closing system with one drag seal bar
support with pneumatic drive
cooling for vertical seal with device for seal fold down
adapter parts for installation on the existing supports of the vertical sealing system
adjustment of software and menu adjustment (according to machine execution)
We recommend a test with your original film at our factory prior to the realization of the upgrade. For installation and commissioning of the drag seal bar, a maximum of one day plus travel time is required. We will gladly prepare an individual offer for you.
Gassing with proportional valves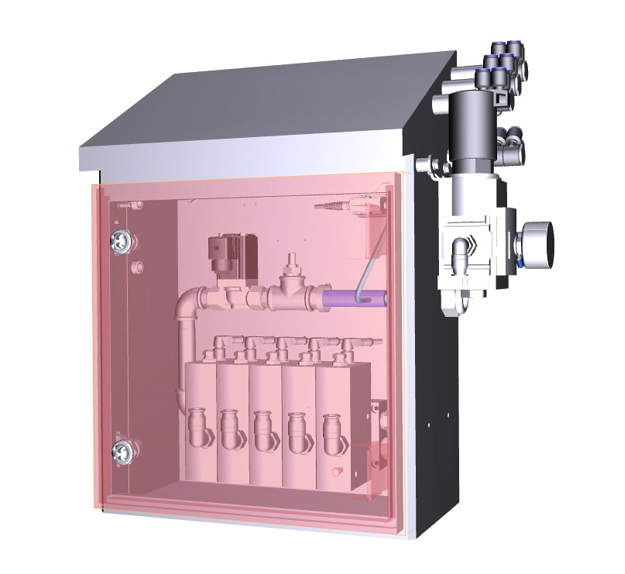 Optimize your gas consumption and save time and costs through simple, reproducible processes!
Many products are treated with protective gas during packaging. When changing over to other packaging forms or pack sizes, the setting of the gas flushing quantity was previously an additional manual changeover point. For packaging machines with ROVEMA P@ck-Control or Rockwell control we therefore offer an integrated and time-saving solution by which the gas quantity can be set and stored according to the recipe. A recipe change automatically includes the precise gas flushing quantity required for the new packaging task. Furthermore, the gas flow rate is recorded, displayed and compared against a limit value. An obstructed or bent line can thus be detected and leads to an alarm. By using interfaces such as OPC-UA, the gas flow rate can also be recorded via the machine control system and forwarded to higher-level systems.

The gassing with proportional valves offers you:
savings potential in gas consumption
Simple parameter setting via operating displayv
Time savings when changing recipes through automatic loading of gas values
lower risk of incorrect settings
Overview of gas consumption at any time
recipe-dependent adjustable values for pre- and post-gassing duration at machine stop
A retrofit kit includes:
Housing for the gassing device
three, four or five proportional valves
Pressure reducer for the gas supply line
new gas pipes from the device to the product supply
Installation material
Software adaptation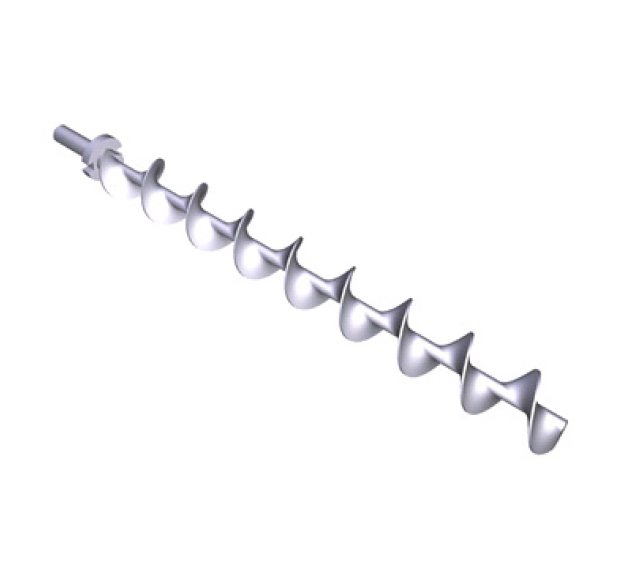 Dosing augers are often subject to increased requirements. The abrasive properties of the packaged goods, but also other events during normal operation can lead to the dosing auger wearing out and having to be replaced earlier than usual. In order to ensure a long shelf life and reliable dosing accuracy even for difficult packaging tasks, ROVEMA offers dosing augers with a particularly hardened stainless steel alloy. This alloy also effectively prevents product contamination by flow chips.
For even more product protection and comfort during dosing we additionally recommend the ROVEMA product safety system ACM.

Tempered dosing augers offer you
Reduction of wear and the risk of product contamination by flow chips to a minimum
significantly longer service life
less changing of the auger thanks to longer durability
Reduction of downtimes and the risk of production loss
Ensuring dosing and weight accuracy
Scope of delivery:
tempered dosing augers in the same size and design as existing one
We would also be pleased to make you an offer for a complete auger format set with tempered auger including tube and corresponding closure as already available in your machine.
Servo-driven unwind device
Your production requires a high standard of hygiene?
You want to minimize safety risks and enhance ergonomics of your staff?

ROVEMA offers you a servo-driven unwind device for a substantial optimization of production processes.
Precision
The unit of motor and belt, usually lying on the film roll, is replaced by a servo drive placed laterally beside the film roll, ensuring an optimal and precise film infeed.
Cost efficiency & hygiene
You will benefit from a long-term cost reduction as classic wearing parts as the drawing belts are no longer required. A contamination of the film through abrasion of the belt is impossible, so you can correspond optimally to high hygiene standards.
Enhanced ergonomics
The lateral position of the servo drive is an essential improvement of workplace ergonomics as employees have better access during film changes. You will create more working comfort, optimize your processes and reduce downtimes.
Cross sealing jaws with inserts
Looking for more flexibility for your production and faster reaction to new trends or packaging regulations? Focusing on cost and resource efficiency?

ROVEMA offers you sealing jaws with inserts, so you can get the optimum out of your machine. No more time-consuming adjustment works for changing the complete jaw body.
Easy Change
Move on quickly with the change to another toothing profile or seal width. The sealing jaws, consisting of body and inserts, enable the exchange of the cooled down sealing faces within a few minutes.
Cost efficiency
You benefit from a higher machine availability and a cost-reduced spare parts procurement. Once converted, if worn in future you will have to change the inserts only.
Resource efficiency: Less consumption while optimal use of resources - this is only one aspect of ROVEMA Sustainability!