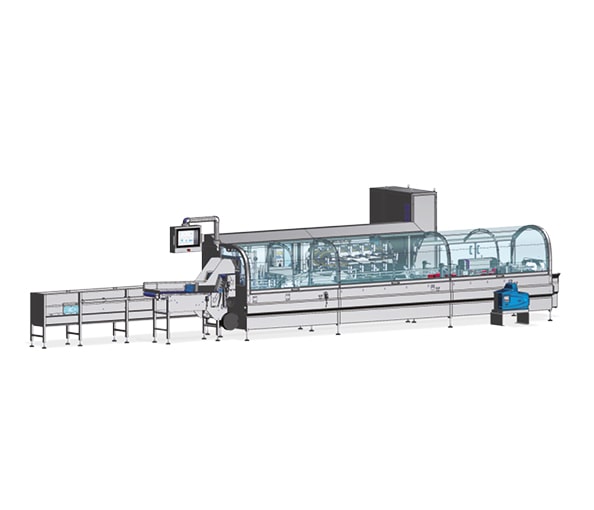 The highlights
Trouble-free processing of critical folding box material with an air frame erection
Decentral drives for the main modules of the machine
Loading module available with top confiner and overfilling detector in conjunction with automatic ejection
Fast, reproducible and tool-free format change, additional options for further simplifications available
Intuitive, easily understandable operation, user interface with graphic support in national language
Hygiene and ergonomics.
In addition to a hygienic design with gull wing doors for easy access and low ergonomic loading height of the blank magazine, the machine off ers solidly constructed functional subassemblies and adjustments. Internal components and components in contact with the product are made of stainless steel. Upon request, the frame is also available in stainless steel.
Easily adapted to product and format.
The format change is tool-free, quick and can be extended with half or fully automatic adjustments. Packing of soft bags and stacks of bags is supported for the optional product conditioner and top confi ner. These units also ensure smooth production when diffi cult products are loaded.

| | CMH-C 7,5" | CMH-C 9" | CMH-C 12" | CMH-C 13,5" |
| --- | --- | --- | --- | --- |
| Box size A (mm) | 85  –  165 (min./max.) | 85   –   210 (min./max.) | 105 – 280 (min./max.) | 125 – 315 (min./max.) |
| Box size B (mm) | 30  –  120 (min./max.) | 30  –  120 (min./max.) | 30 – 120 (min./max.) | 30 – 120 (min./max.) |
| Box size H (mm) | 110  –  300 (min./max.) | 110  –  300 (min./max.) | 110 – 300 (min./max.) | 110 – 300 (min./max.) |
| Output | 225 cartons/min | 190 cartons/min | 140 cartons/min | 125 cartons/min |