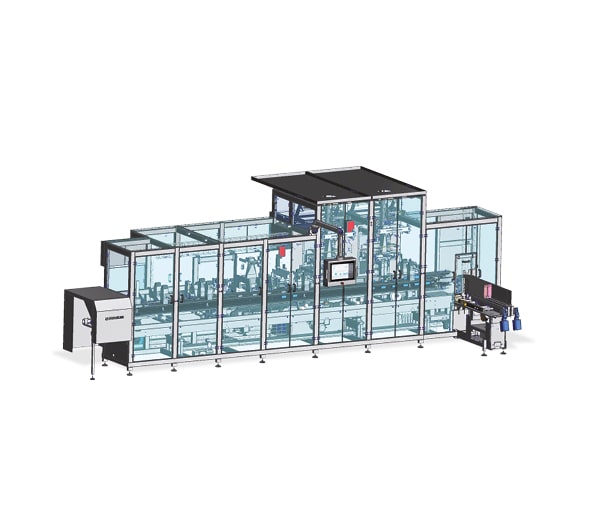 The highlights
Various bag top shapes possible
Compact and flexible
Safe and secure box erection by a separately powered rotation picker with forced box erection
Gentle operation due to oscillating chain movements
Programmable 3-dimensional format change, 100% reproducible, reduces conversion times
Intuitive, easily understandable operation, user interface with graphic support in national language
Additional options for compactable products
The most compact and flexible cartoning method.
The ROVEMA CMV series can be supplied with one or two integrated Form Fill and Seal machines as a compact, flexible bag-in-box machine, optionally available with direct-fi lling facilities.
Bag in folded box
Bag without folded box
Product filled directly into the folding box
All this is available from a very compact machine.
Compact and flexible.
Probably the most compact bag-in-box line. This case, one or two Form Fill and Seal machines are integrated into a cartoning machine, additional conveyors and/or transfer systems are not required. Depending on confi guration and application, up to 120 folding boxes per minute can be produced. The bags are transferred vertically directly from the Form Fill and Seal machine into the folding box. The folding boxes are transported through the machine with oscillating movements so that the bag is transferred safely into the box.