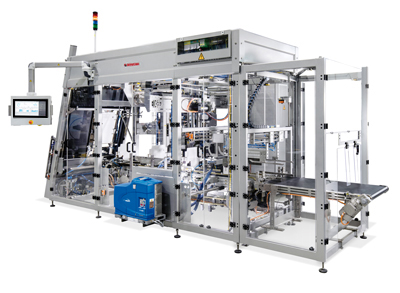 The highlights
Proven ROVEMA machine technology
Good accessibility
User-friendly layout
Equipped with powerful grouping systems
Product-friendly, energy-efficient movements
Prepared for sealing with tape or hot melt
Modularly expandable
Up to 15 cartons per minute with tape sealing with integrated sealing module, up to 25 cartons per minute with external sealing module.
When sealing with hot glue up to 25 cartons/min*.
* depending on product and carton size
Efficient and future-proof.
The final packaging machine ROVEMA EF offers maximum flexibility when packing bags and folding boxes into American Case (AC) cartons. Cuts of different thicknesses and qualities can be processed.
The ROVEMA EF is modularly expandable for future packaging tasks, e.g. after adaptation, also tray packagings with inner lid can be produced on this machine. Furthermore, the ROVEMA EF allows the closing of the cartons with tape as well as with hot glue, the changeover between the two closing methods is fast and easy.
Flexible grouping systems - cycle chain or belt insertion - allow different layer patterns.
Effective and economical.
Motion-optimized, controlled processes protect both product and machine. The fast format change is reproducible due to application-specific parameters, adjustment spindles and format parts. This reduces downtimes and ensures an economical, effective production process. Integrated into the packaging process, a high degree of automation is achieved at an excellent price-performance ratio.
ROVEMA P@ck-Contol
With the process control ROVEMA P@ck-Control an absolutely safe operation of the machines is guaranteed. Monitoring mechanisms and dynamic limit values ensure that incorrect or implausible parameters are not accepted. In addition, the integrated online help with its convenient navigation via touch screen is available to the operator at any time to provide support if required.
The machine is also available with Rockwell (Allen Bradley) control.