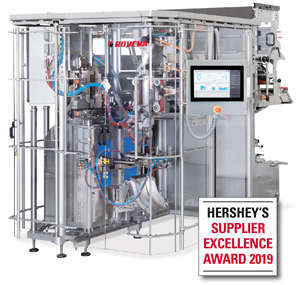 The highlights
Pillow bags, Stabilo Seal and Doypack-like Stand-up pouches with Zip (RoPack) on one machine
Up to 105 attractive Stand-up pouches with Zip per minute
Quick format change between different bag shapes
Easy and efficient gassing is possible to extend the shelf life
High efficiency and faster cleaning at the closing devices due to Sense & Seal product detection
"Stripping" function for an improved filling volume
Particularly suitable for sweets with "double twist"
Winner of the Hershey Supplier Excellence Award 2019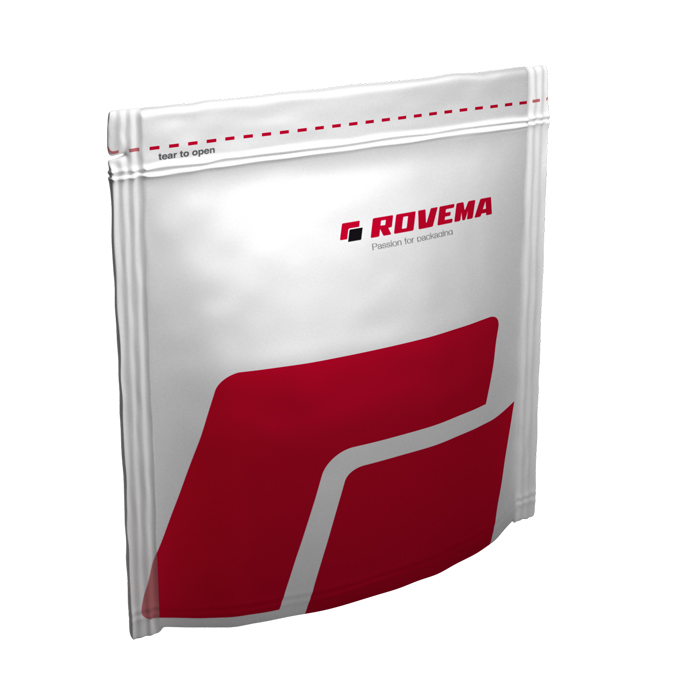 Use the benefits of vertical packaging with the ROVEMA BVC Flexible machine series.
Doypack-like RoPack bags, as visually appealing as horizontally manufactured bags, but with all benefits of vertical packaging: e.g. lower operating costs, higher flexibility and a small footprint.
Various bag applications possible:
e.g. Zip, adhesive tape for reclosing or opening features with laser perforation.
"Stripping" function for an enhanced filling ratio:
the sealing jaws gently guide the product into the bag; at the same time, the sealing area remains clean and free of product – especially important for products with double twist.
Sense & Seal product detection
protects the sealing tools from dirt and damage – even in case of product within the sealing area. Sense & Seal ensures a high machine availability and consistent seam quality.
No offset in the top seam
through automatic edge control with ultrasonic detection and servo motoric adjustment.
Resource-saving packaging process
due to the vertical continuous process – nearly all compound packaging materials, even in thin packaging qualities, can be processed
Hygienic and quick cleaning through product area being separated from drive area. Space saving integration of additional parts or accessories (e.g. printer, labeler, applicators for reclosures or Zip-bags) possible.
Also available in stainless steel.
* For other bag shapes technical data of standard BVC applies. Subject to technical changes. Performance data in dependence of product and packaging material.

| | BVC 260 Flexible | BVC 400 Flexible |
| --- | --- | --- |
| | RoPack with Zip* | RoPack with Zip* |
| Nominal output | up to 105 (B/min.) | up to 80 (B/min.) |
| Sealing force (N) | 6000 | 8000 |
| Format area (mm) | stand height up to 260 | stand height up to 400 |