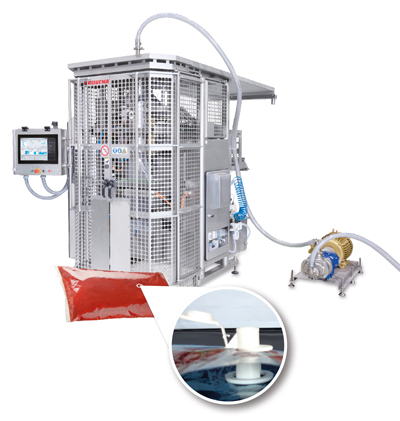 The highlights
Low-air bags, filling level 100%
High efficiency and reduction of downtimes due to Sense&Seal product detection
Toolless format change, quick and effective
Hygienic design, without hollow spaces or profiles
Machine housing is free of horizontal areas, avoidance of deposits
Easy and quick cleaning, as the product area is separated from the drive areav
Stainless steel design, optionally available in wash-down version
Usage of all customary films is possible
For hot and cold filling
Optional: Application of fitments for usage of bags in dispensers
Optional mit ROVEMA P@ck-Control oder Allen-Bradley Software erhältlich
Weight-accurate with high output.
The continuously operating Form Fill Seal machine BVC 310 Liquid is designed for highest output performance and reaches a high machine efficiency with perfect bag quality.
The product area is strictly separated from the drive area, which ensures that the machine satisfies even the most stringent hygiene demands. In addition, the machines are well accessible and thus can be cleaned quickly and easily. All customary packaging materials can be processed. Depending on the packaging material and the product the BVC 310 Liquid uses different sealing techniques. Due to a special product displacement process almost all products can be packed using a minimum of air. Thus a filling accuracy of +/- 1.5% can be reached.
Best seal quality due to special processes.
BVC machines are equipped with the Sense&Seal function, which detects tiny product particles in the seal area by sensitive electronics. In this case the sealing process and the cutting procedure are interrupted and the sealing jaws are stopped and retracted. The machine produces a double bag that is discharged and automatically restarts the packaging procedure. Thus downtimes for cleaning and manual troubleshooting are reduced to a minimum. The machine efficiency is incr eased significantly and the wear of sealing tools and cutting knives is reduced.
For difficult or very sensitive packaging materials the BVC 310 Liquid can be equipped with Premiumseal, the innovative sealing technique. Premiumseal not only optimizes the sealing temperature, the sealing time and the cooling time, but also the sealing power profile. As all sealing parameters can be adjusted individually, highest reproducibility and process reliability are ensured. Influences deriving from packaging material characteristics or process-related peculiarities are taken into account in order to guarantee best possible and high-quality packaging results with different applications.