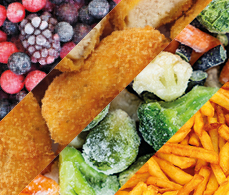 Meat and fish products containing protein, single-variety vegetables, fruit or even mixtures such as ready-to-eat products – we offer solutions for packaging frozen food. We take into account the requirements of fragile products as well as your wishes regarding bag shape and packaging material. Our experts advise you comprehensively drawn from decades of application knowledge from dosing to transport through to optimized final packaging solutions.
Future proof: Suitable for a wide variety of bag shapes
Versatile: Prepared for production with polyethylene films, laminated films, as well as paper packaging materials
Minimal operator intervention: Autonomous machine operation thanks to automatic packing material change- over and Sense&Seal product detection
Choose your bag style. Whether classically lying in the freezer or standing on the shelf – in the retail trade frozen products are presented in different ways. ROVEMA machines offer you a variety of packaging styles produced from one machine: From low-air pillow bags through to representative re-closable stand-up pouches, everything is available.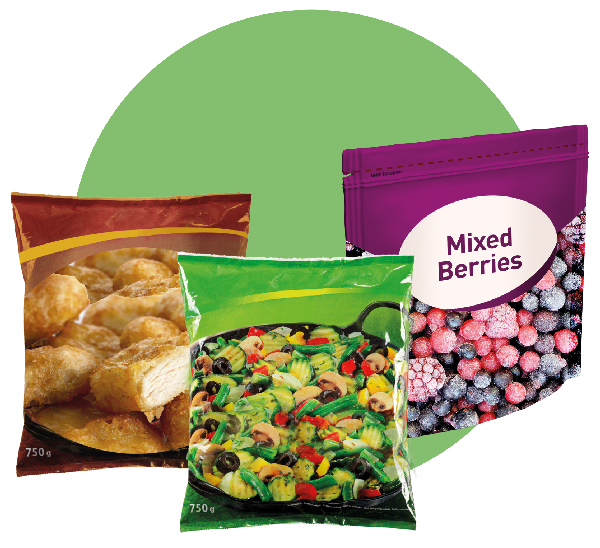 Flexible choice of packaging material
High packaging speeds challenge the machine and the packaging material. With increasingly sensitive consumer behavior in terms of sustainability, future- proof technologies that can be easily adapted are needed. Whether recyclable mono materials, stable coextruded special films or paper- all weldable and heat-sealable packaging materials* can be used efficiently on ROVEMA machines thanks to the flexibly adaptable equipment.
* packaging materials from the flat film web from 30 μm material thickness or 75 g/m² area weight