The fibre-based pouch that stays on the shelf
A new reinforced euro-hole pouch concept developed by Walki and Rovema helps brand owners make the switch from plastics-based confectionary pouches to paper packaging.
Whenever your sweet tooth reminds itself of its existence, you turn to the supermarket aisles to choose from the wide selection of pouches with candy and confectionary hung up on metal hooks.
Those pouches are almost always made of plastic. Although a paper-option would largely be preferable for easier recycling, it has not been a possible because the paper pouch has not been able to sustain the weight, resulting in the pouches dropping on the supermarket floor.
"The paper pouches have until now not been sturdy enough to prevent the tearing of the pouch at the hole punching, and this has indeed been a reason why only a very small number of confectionary brand owners has yet to make the transition from film to paper", says Andreas Rothschink, Head of Product Development and Technical Service, Consumer Packaging (Business Area) at Walki Group.
Finding a fibre-based alternative has been on the design desk for a long time at packaging machine maker Rovema.
"We have been thinking of different solutions for reinforced eurohole pouches for a long time. We knew it could work on our machines, but we needed to find the right partner, says Nadja Richter, Head of Communications and Marketing at packaging machine maker Rovema.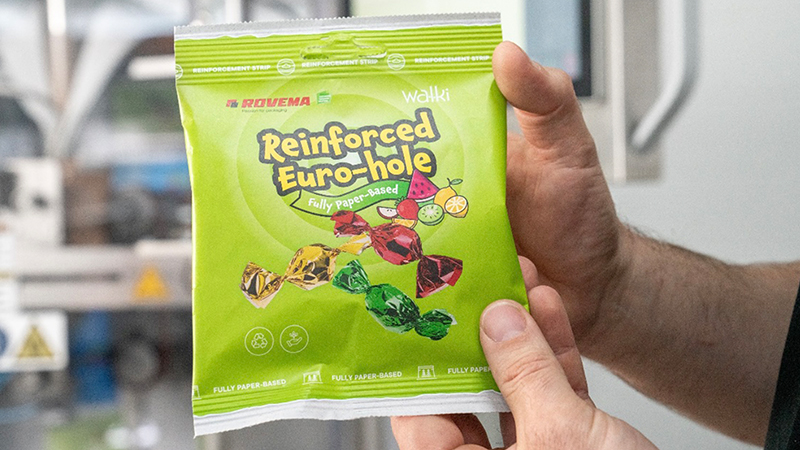 Rovema contacted the Walki team, who was eager to take up the challenge.
"The task was to come up with a completely fibre-based pouch but designed in such a way that the pouch would not risk be torn at the hole punching", says Rothschink.
Walki's idea was to apply an extra strip on the area above the euro hole. The double layers strip is invisible to consumers but works as a safety belt for the paper pouch.
For production reasons, it's important to make sure that the transition from plastics to paper does not result in less output or any other inconvenience for brand owners. Rovema has the ability to adapt its machines for paper pouches without losing production speed.
"Our machines are every flexible and we can adapt them for paper as well", says Richter.
"There is no additional effort needed for the brand owner or the company filling the pouches – they get a ready solution", adds Rothschink.
The pouch can also be used in non-food segments for home hardware materials like screws or for toys like plastic bricks.