The format set is an important part of your Form Fill and Seal machine. At this point, a bag is formed from your packaging material, laying the base for the character of your product packaging.
Many companies focus on lowest prices with short delivery times - sounds logical, but it is risky. In the worst case, unexpected additional costs and delays arise from reworking the low-cost but low-quality format parts.
The majority of our format parts are manufactured at our main manufacturing site in Fernwald, Germany. Our high quality standards form the basis of our products' long service life , regardless of whether it is a packaging machine, a format part or a spare part. In addition to complete format sets, we also offer individual format parts such as forming shoulders, filling tubes or chutes - customized to your requirements!
With our experience of over 60 years, we have a holistic view on the product and packaging material and are happy to advice you.
Your individual wishes and the specific requirements of each product make every packaging machine unique. With high-quality format sets, you increase your flexibility and can realise new trends and packaging tasks. The flexibility of our format parts allows you to better adapt to the needs of your customers and at the same time to operate sustainably.
Are you planning a new bag shape or the use of alternative packaging materials?
You want to convince your customers with a modern and sustainable packaging at the point of sale?
You have a packaging idea and want to test its feasibility and performance?
* the illustrations are only an excerpt from the entire range of bag shapes. You can find the complete listing here: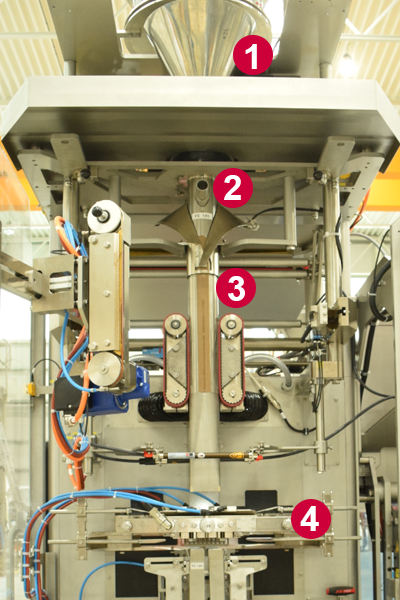 Additional equipment - added value for your format sets
In addition to format sets and format parts, you have the option to upgrade with additional equipment such as transfer hoppers (1), extraction (2), forming chute (3), folding tools (4), gas flushing, valve or zip applicators.